2 Extremes of weather today as I vaguely remember the first film below, now a remastered and very welcome movie from FETISHFLIXX starring 2 of my favourite English schoolgirls with a very stern and nasty Miss Hastings in this film "Out of Bounds" . Follow that with the sunny climes of California and the Lindsay Lohan lookalike (Alison Miller) getting the same treatment indoors to change her disappointing attitude at FirmHandSpanking.com
So 1st, I have cut a special OTK clip, in fact, this whole movie is a homage to good old fashioned OTK, it's set in the depressing class room of years gone by and you can tell both girls can't wait to leave! Well, these 2 idiots should have learnt their lesson, Miss Hastings' cutting tongue and put downs are followed with some excellent and very hard hand strokes across their bare bottoms!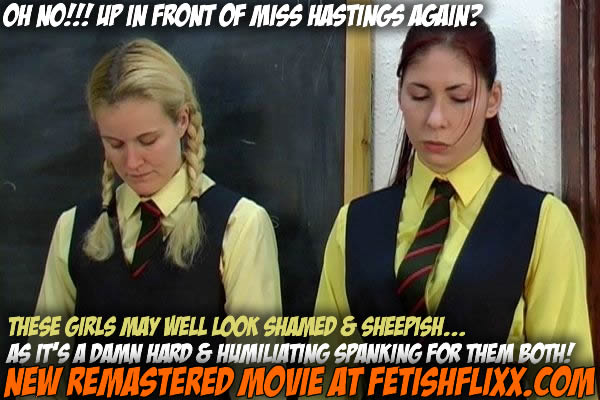 See the images from the movie I have made available below, 2 VERY RED BOTTOMS – imagine trying to walk home when it's lashing with rain outside, snivelling as you feel your regulation knickers cutting into your burning shamed cheeks!
FETISHFLIXX has this NEW movie out now, but if you want to see my own OTK preview, enjoy blonde Emily's thrashing below, please check out the sly slap that Miss Hastings does across Emily's lower thigh, it's just what I'd do…LOL!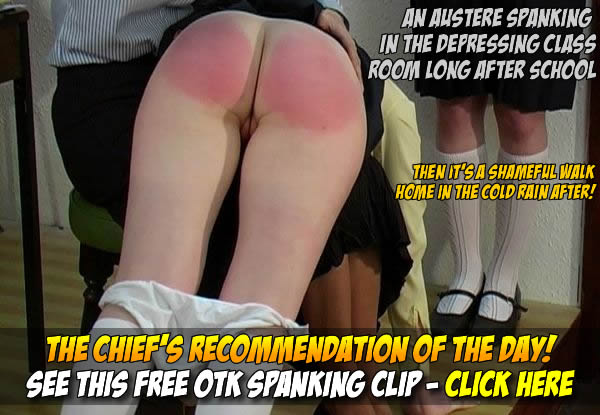 CLICK HERE FOR THIS & MORE SPECIALIST SCHOOLGIRL MOVIES
For your information – this movie is part of a schoolgirl package as a one off PPV download
Click HERE for the preview page (taken from NaughtyBottom.com)
********************************
Contrast the utter depression above to the sunny climate that breeds arrogance in the teens of America. Alison Miller, at first when I started seeing her with her red dyed hair and eyebrows, her tatts etc, this girl just angered me, as I'm an old fashioned type of guy, not as tolerant as I once was… but she has a beauty and a gorgeous ass to die for, which just grows and grows on you the more you see of her and this classic punishment from the "Attitude Correction" series is a real corker! I hope you agree!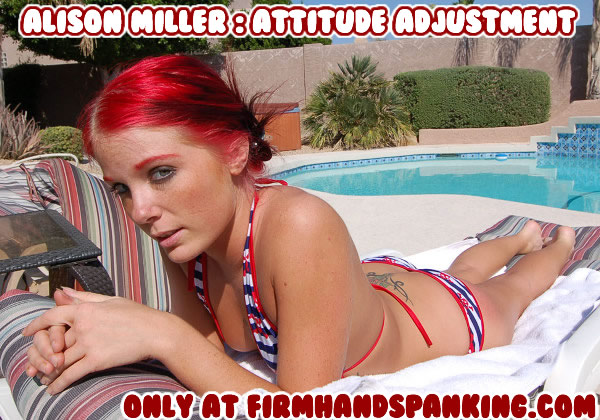 Yep, she may look like Lindsay Lohan, (IMHO) – that talentless partying bint or whatever she is making herself famous for now Stateside – but there's the promise that, like Lindsay, she is a strawb-blonde haired girl, so all is forgiven! So, imagine if you will! Stare her down, look deep into her freckled face, her deep blue green eyes, and then tell her she is going to have to remove her bikini bottoms and show you her pert teen ass and get a paddling off you! Oh boy! I'm there already!!

Check out that rear of hers in that bikini, what a heavenly sight! Now *that* is serious trouser arousal material!!!

OK, Alison Miller, she of that cracking butt is featured in many recent movie updates at FIRM HAND SPANKING
See the Movie HERE
I gotta stop writing now, whenever I write about schoolgirl spankings and bratty teens that needs a damn hard punishment, I get cramp somewhere down below… strange, eh?
Back soon when I find out what the source of this "problem" is
Chief