I posted this on my other blog, but felt if you had missed it and only come here, then you should know about this forthcoming event, so apologies if you've already read this… and if you haven't… well, enjoy! 🙂
Those of you who know what a fearsome domme Miss Zoe Page can be will be shocked to see her wrestled to the floor and treated like a bimbo… but in the this new film coming out next week at AAAspanking.com – members will be able to watch Zoe play one of her most submissive roles I have ever been privileged to witness and this is a totally 1st excluisve to my site!
This is purely a teaser but for those that are signing up to the site this is a fantastic bonus as anyone joining right now will 100% see this movie in full before the 1st 30 days are up so whether it's a one off membership for that period or a recurring one or one of the special deal longer term memberships (best option!) – either way, you ARE going to get to see this film AND the fantastic image set (which I have cut a few below which are reduced in size) so you get the idea of what will happen at the start of this film!
It's called "Where are my shoes?" -and this is what Zoe asks of her nasty step sister, Jessica, who has hidden them in one of their sibling conflicts! (how delightfully catty and petty, eh?)
Zoe absolutely loved playing a bratty schoolgirl, and of course, both these young ladies look amazing and I promise you the wrestling scenes are hot, both girls went for it, and I'm afraid to say that Jessica beat her… yup! You'll see Zoe submit… but for how long? Ah, well… that would be telling, eh? *wink*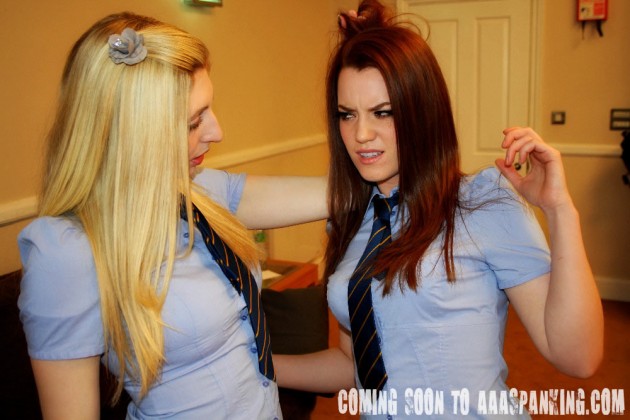 I haven't said much about new girl Jessica either, she is beautiful and stronger than she looks, as you will discover! I am really excited about showing you this film next week and obviously there are also some other great updates (the rude n lewd 2nd part to my fantasy spanking, mmm!) and a full film release as well as this new film showing at the site which is making it a great time (if I say so myself) to be a member of AAAspanking.com
Sorry there is no more today, I had a full day at my workplace and am shattered but wanted to share this early news with you all, I will promise to get you more worldwide spanking updates here tomorrow morning, however, until then, I hope you enjoyed this exclusive free preview of what Triple A patrons will be able to view next week! Enjoy your weekend, everyone!