Hi everyone! I'm just off to bed, had a great shoot this weekend despite my worries about the owners next door… seemed we got away with it, so I know this has been posted on my main blog, but if you never read it and only come here… here's a chance to see what I got up to! I have got you a few images of our shoot today with popular returnee, Jasmine, and a brand new girl to spanking, Sophie (not filmed anywhere else!) … who had the look of Michelle Pfeiffer about her… and for a new spankee, I seriously put her through her paces and she came up trumps! I can't wait to start getting these films up, below are some images from just a few of the films we made today as I got some sets on my camera so can get this to you now! Hope you like what will be coming soon!
New girl Sophie makes her debut in spanking and Jasmine shows us what we've missed!
It was incredibly hot here in England, the hottest October day on record… so of course we were all woefully unprepared stuck inside and had to keep the windows shut as both Jasmine and Sophie yelled out loud when I whacked them just a little too hard! So we all endured it inside without air con… the things we do to make films, eh?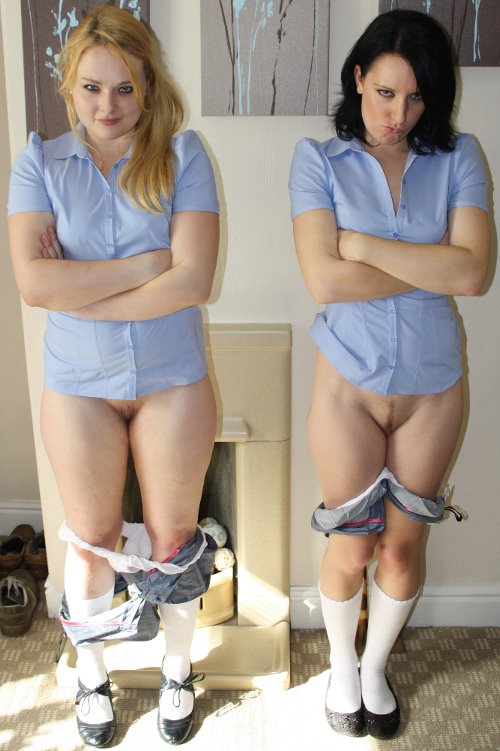 I haven't adjusted any of these images at all, they are just reduced in size and nothing more (I'm far too tipsy for anything like that right now) and I just loved the way Jasmine investigated Sophie's delightfully speckled bottom! In fact, both girls asses really turned red almost straight away… my hand has become quite stingy… as Jasmine remarked… bitterly! heh heh!
Jasmine did a good job of getting her own back on Sophie…. I have to say Sophie had the most amazing eyes…. you could get lost looking into them, oh and her bottom speckled beautifully as you'll have seen already!
Oh, and Sophie got her chance too in a schoolgirl set, damn they look good together, eh?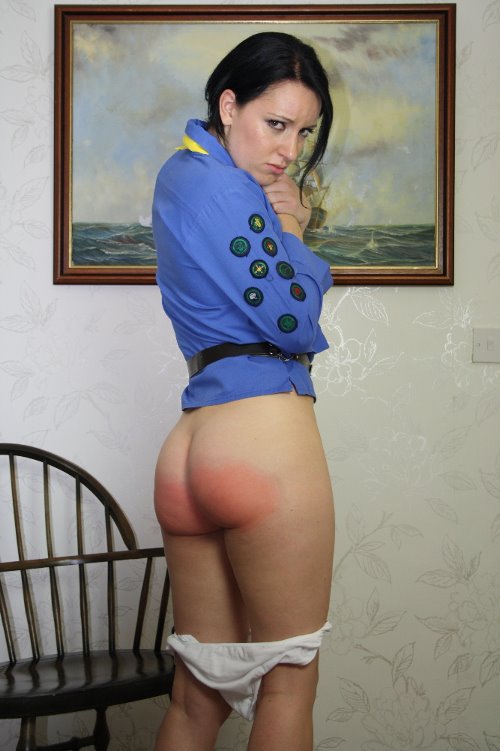 I couldn't help myself, Jasmine played the naughty Girl Guide oh so well….
OMG! Just look at her for goodness sake!
& finally below, in what was one of my fave films of the day, I already know the title of this film, it'll be called "Who wet the bed?" as I ask this question repeatedly of the girls and make them spank each other when they really don't want to be doing this and they just don't tell me who did the dirty deed so I end up diapering them before they leave the house to add to their shame! We had some fun making this one…. I'm sure you'll love the humor and the wicked spankings that took place in this and many of the films!
Yes! They're diapers… and Jasmine inspects the damage on Sophie's magnificent behind! I'm so glad we didn't get caught today otherwise I couldn't bring you this post and let you in on a small part of what will be coming soon to AAAspanking! Remember you can view all these updates and a shed load more stuff starting from just $8.50 a month if you take the special option…. and I guarantee everything you see here will be available to you on that extended special deal…
OK, I'm waffling, have a good 'un… here's to another sweltering day and maybe tomorrow I can enjoy some of the last hot sunshine we're gonna get here in England this year! Yay!