I was going through SpankingServer earlier today and remember being told of their use of well known porn stars (usually international stars who hail from Eastern Europe) and came across Cynthia Vellons (below)
Nice, eh? Now she is featured in the second part of this update today as I had intended to do a post on a new girl at SpankingServer, a naughty 20something redhead called Genny(OK sue me, she's not a teen, but she's gorgeous!) who, as many of you know, I have a genuine thing for, especially in spanking…I don't know if it's their pale skin that marks beautifully, the freckles, the red hair (nicer if also shown below,even the colour of their pale pink nips, but it does it for me everytime seeing a cute Redhead naked and punished and that just gives me a raging hard on so much so that it could break a pretty filly in two!!!)
So here's Genny, one of the sexiest redheads at SpankingServer…enjoy! I have!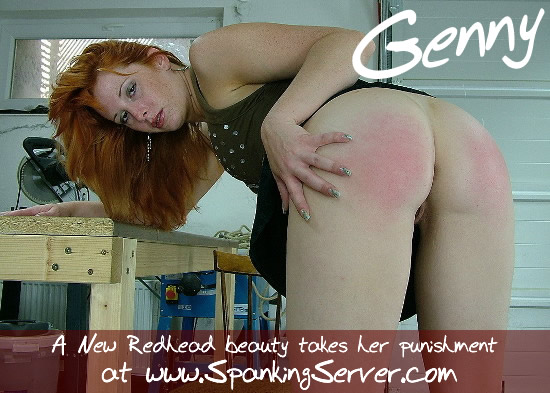 Now as I was saying earlier, Cynthia Vellons is a very naughty model, it's her stage name obviously and I think she is originally from Hungary. Having spent some time in the past in Budapest I can confirm that Hungarian girls are amongst the most beautiful and horny anywhere on the planet *sigh* Girls like Cynthia embrace their online slutty life and I have included a few images any of us could easily find thanks to Google, but fortunately Peter & Co at SpankingServer employed Cynthia for some good old fashioned HARD punishments.
This beauty didn't need to do it, which to me, suggests she is a secret pain slut/spanko, and that makes seeing this horny thing all the more interesting!!! Check out the welts on her fabulous derriere in the images from the movie shoots below!
As I said Cynthia features all over the net getting up to real filth as you'd expect in Vanilla Porn-land, proof of this is below, I won't bother posting loads of pics as Google will easily help! But you'll get the idea that SpankingServer successfully employ porn stars and beautiful unknowns from Eastern Europe making this a highly addictive site with amazing looking girls getting disciplined and punished across their bare bottoms severely!
Oh, & Happy 4th July Weekend to my American readership (my last stats I checked showed that 70% of my readership are from there), so have a nice weekend!
Chief