2 contrasting punishments from 2 very different sites… the first is a recent update starring Alex Reynolds and Paul Kennedy – from NorthernSpanking.com called "Caned in the Grounds"
School policy explicitly states that students are not allowed to be unsupervised on the grounds during school hours. But Alex has a bad habit of excusing herself to go to the toilet and instead sneaking off into a secluded corner behind an outbuilding for some private time. She likes the fresh air and she very much likes having a chance to slip her hand into her cotton school knickers and play with herself. Today, she really needed a chance to release some tension as she sat in class.
While monitoring to make sure that no students were out-of-bounds, Mr Kennedy heard unusual noises coming from a far corner of the property and went to investigate. There, he found Alex leaned up against the building with her head thrown back as she moaned in pleasure. He was unimpressed with this behavior, which he thought entirely unsuitable for a girl from a school with such a good reputation!
Unfortunately for Alex, he was patrolling with his cane in hand and, since Alex felt that this spot was a private enough location to touch herself, he deemed it private enough to thrash her on the spot, giving her a hard caning before marching her back to school in disgrace.
Click here for the exclusive full HD film updates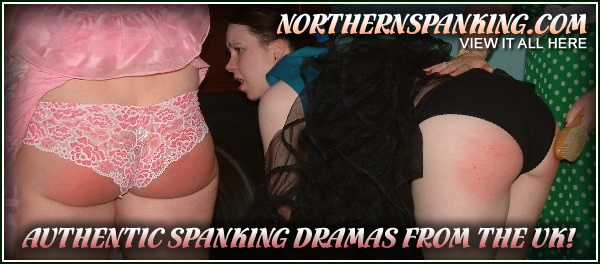 ****************
The 2nd update is from PunishedBrats.com and stars Adriana Evans and Mandie Rae… these 2 are extremely naughty together… as you'll see!
Close Friends – with Adriana Evans & Mandie Rae
Adriana and Mandie had been out for the night. Upon their return home, the two close friends wanted to be even closer and started to explore each other's bodies. Unexpectedly, Adriana's husband returned home and found the two in their passionate embrace. He demanded that, as punishment, Adriana give her little friend a hard spanking. If Mandie were to refuse, her father, The Reverend Rae, would get a call. Mandie went over her friends lap as Dominic watched with great satisfaction.
After Mandie's punishment was over, Dominic now commanded that his young spouse go over the reverend's daughter's lap for her spanking. As with Adriana, Mandie was at first reluctant to hurt her friend. After the threat of another spanking by him, Mandie took the task with alacrity and found she liked spanking her friend. Once the spankings were over, Dominic placed both girls in the corner with their bare bottoms on display. What he hadn't counted on was that the sexual desire between the girls had only been heightened from the experience.
See the full movie only from Punishedbrats.com