As the title says, this is a totally exclusive offer only available from this blog or the SpankingBlogg (find the banners like the one below and it leads directly to a special sign up page)
This page is only around temporarily and is a little experiment of mine – so if this tempts you to sign up and take a peek (there's at least one new movie with images added every week with 3 regular updates EVERY week for members) – then click on the sign up banner below. We are doing this as I know full well just how tight things are for many people, but of course, my generosity won't be around for long as if it gets over subscribed quickly then I will remove the Trial – so seriously, get it quick whilst I decide if what I've done is wise or not! 😉
***********************************************************
If you'd like to know more about the very latest movie just released earlier today then read on, and of course you can check out the rest of the site offerings and then if you want to take advantage of this unique offer then come back here and click on the link banner above as this offer is not available on the regular sign up pages.
This was actually one of Jasmine's last films that she filmed with us and she had taken some quite hard canings and strappings earlier during the day so this film was an excuse to show off the beauty of her warmed, rounded bottom and a chance for an old perv like me to indulge myself in much bottom rubbing! However, we also liked the fact that Jasmine had a nice tight pair of denim shorts (almost Daisy Duke-esque) and I can tell you feeling her warmed up bum, the heat through the denim material was quite addictive and revealing her bottom to spank, pat and stroke was…ahem, a rather erotic exercise (seriously her soft skin is softer than a 1000 softest fluffiest cute puppies you'd all love to stroke!) and fortunately I was wearing my infamous "Protective Cast Iron Undergarments" ™ Chief – thus avoiding the dreaded effects and consequences of any unwanted "Trouser Arousal" ® Chief. (LOL).
Click image below that leads to the latest free preview on the Tour pages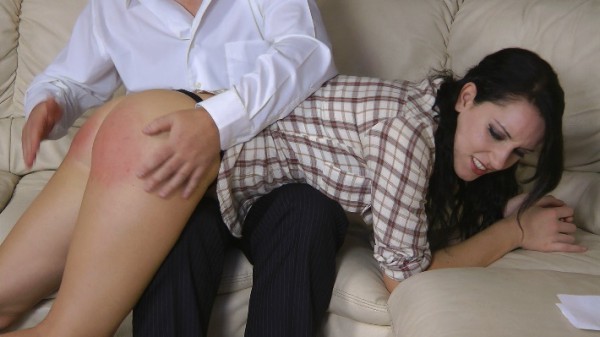 I have also got you some images from the film so you can admire Jasmine's magnificent bottom in and out of her "Daisy Duke" shorts ( I won't bother with the storyline as it is explained fully on the tour pages).
I can tell you that there are more films of Jasmine to come but for now, I hope you enjoy this latest offering! & of course if you're tempted by the sight of Jasmine's pert bottom then for a brief period only you can purchase a membership to AAAspanking HERE for far less at this blog or my other networks!
PS. Don't forget that at the regular site sign up HERE – the offers of vastly reduced NON recurring 3 and 6 month deals will ALWAYS remain, and these are truly outstanding value (you can see how much clicking on the link here to find out) – work out what that is a month and you'll agree it's pretty darned good.
I will be back later with more updates from around the wonderful world of the spanking on t'internet!
Regards, Chief.