Playing catch up today and what a better way to warm up your end of weekend viewing than with Little cutie, Jenny Sativa, who has recently featured a lot at the Clare Fonda Pass network of sites – I have some adorable spanking updates from across the individual sites that are MASSIVE in their own right… or you can see all of Jenny's spanking via one convenient money saving pass saving you a lot as the pass is a fraction of up to 5 sites combined costings! (But you knew that already, right?)
Jenny Sativa at Spanked Sweeties – spanked OTK by her teacher & punished with the ruler
Jenna Sativa was spanked often growing up and even questions why there isn't more spanking in society today. Snow Mercy plays her mom, who wouldn't let Jenna get away with anything and spanked her outside and inside. In this latest film update… Snow also plays her teacher, who once spanked her too – and in this scene gave her a hard bare bottom OTK spanking which she remembers was embarrassing and relives this incident again… as well as the wooden ruler which she recalls her teacher loved to use on the girls – ouchie!
Check out all the new girls from the Clare Fonda Site network here first – interviews, re-enactments of spankings growing up and genuine 1st timers to the scene are all shown here exclusively before the rest of their sites!
*****************************
Sexy Jenny gets a hard naughty Initiation at the Sorority – as you'll see in this latest film update from the hawt Spanking Sorority Girls
Jenna Sativa is new to the school and sorority and Star Nine gives her a painful initiation which includes a hand spanking, a few whacks with the large wooden pledge paddle, and then a kiss. Jenna can hardly take it all, but she has no choice as it is all part of the red-bottomed lesson-learning ritual.
See the full length sorority girl spanking videos HERE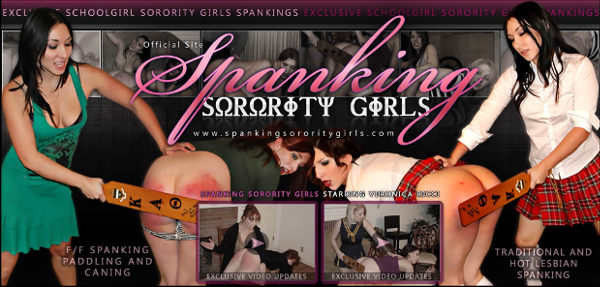 **************************
Same girls, same location but a wholly different style of film at GirlSpanksGirl.com (arguably the biggest and best stand alone site of the "Fonda sites" comes the final part of the "Life Coach" series : day 3
See how the girls react to each other in this full length film now out to download!
In the final installment of the Life Coach series, Jenna Sativa has skipped class to go out with a girl. When Star finds out, she puts Jenna over her knee for a long, hard spanking with hand and hairbrush, even though Jenna's friend could show up at any minute. Then Star uses a vibrator on Jenna, whose friends does arrive. Jenna is so angry that she spanks Star, too.
Check out this smoking hot spanking video (in full) HERE

All the above sites can be viewed as part of one mega pass – giving you these sites for a fraction of their combined cost! CLICK HERE for full details or see how at the banner below.