I am recovering from an almighty hangover here in Baltimore… staying in the beautiful Fells Point area, I am typing this in the cool darkened hotel room after a top night out in several bars, sampling the delightful local brews and world lagers… I also took in a baseball game, but understood very little, was bemused by the lack of atmosphere you'd get at an English football (soccer) game, but then again, it was a great evening and relaxed against the White Sox and they did muller poor Baltimore Orioles 8-1… nice ground though (see piccy)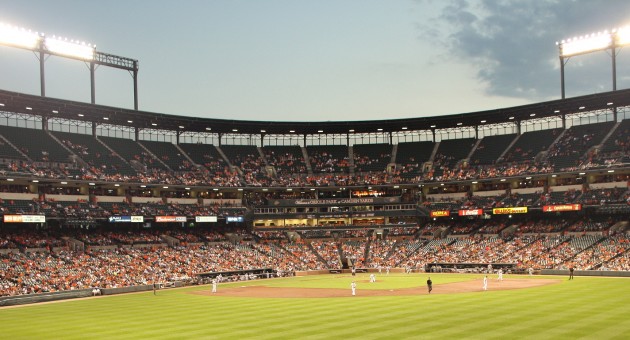 & so onto the spanking updates as I have managed to quickly see it… I will focus on girl spankings as at my own site, as you'll see, I have updated the site until my return and it includes all manner of girl spanking girl goodness (more later) but 1st, i wanted to let you know about an awesome new film out at spankedcallgirls.com which was conceived by Veronica Ricci (love her filthy spanko mind) and is a great excuse for madion martin to spank other girls on her birthday… "hoes away!"
It is Madison's birthday and Madam Snow has ordered Veronica Ricci to throw a great party (or else!)… Well the party goes bad from the get-go as Veronica has stuffed the pinata with tissue instead of candy because she thinks the girls butts are getting too big. Madison gets to spank each girl or she will tell. She also paddles them.
But then they gang up on her and give her many, many birthday spankings. Ashley Rose is annoying them all, so they oil up her hiney and all spank her, too. This episode was conceived and directed by Veronica Ricci. It introduces three new models to the site, including Aaliya Love.
You can check out MORE of this top girl spanking action at Spankedcallgirls.com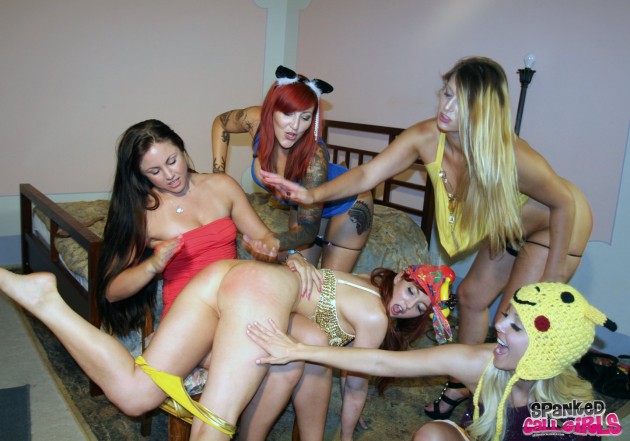 This site is also part of the best value CLARE FONDA PASS Network
******************************************
So, now to let you peeps know what is out at my site… (I loved this film, btw) it stars Zoe Page and Jenna Jay in an outdoor setting where the girls get to grapple with each other in a Wrestling Lesson…. next time I'm gonna throw lube oil at them and let them get on it (heh heh) … but this time, you will see Jenna (as ever) not learn her lesson as she dares to take on Zoe and tries to teach HER a few moves like pinning her down… oh dear. Oh, did I mention the girls are in bikinis? um… Grappling? Bare bottom spankings? Please do read on 🙂
"The Wrestling Lesson" starring Zoe Page (left) and Jenna Jay
Zoe was trying to teach her student, Jenna, some new moves in their latest wrestling lesson but Jenna had other things on her mind as she thought she could do better than the simple movies being taught. She pushed her teacher to the limit with some own moves of her own that rattled Zoe and when Jenna almost squashed the life out her attractive tutor, something had to give. Zoe was not used to being made a fool of or submissive at all so she soon took complete control of the naughty minx, Jenna, and gave her another lesson in how to be a compliant young lady with the help of a humiliating punishment. Jenna soon remembered who was boss as she suffered the indignity of having her bikini bottoms pulled down for an old fashioned bare bottom spanking!
CLICK HERE or image below to view the free movie clip of how it all happened!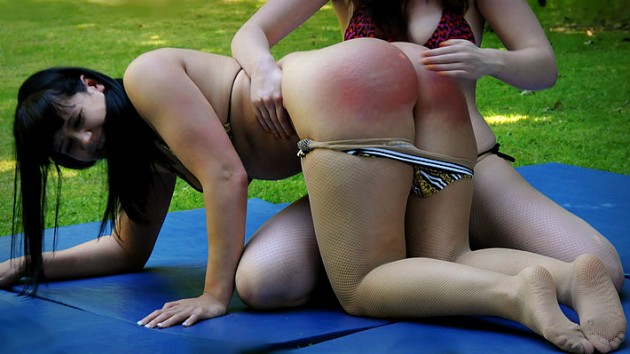 **********************************
There is also a full photo update of Zoe and Jessica which has been released early, and there's also the full movie updates you might expect over the next week, all placed up…in advance! A couple of sample images are below for your perusal… hope you like, these are the actual size images members get too!
Jessica is a family friend and a year higher at school than Zoe, she should have known that this precocious brat always got her own way by now! Jess was bored as they watched TV together and took charge of the remote flicking through the channels for something better. Zoe was annoyed and told her to give back the remote or there'd be trouble! Jessica was bigger and stronger than Zoe, or so she imagined, and thought she could bully her but Zoe pounced on Jessica and got her quickly over her lap then blackmailed Jessica, reminding her of that time she caught her with 2 boys at the back of the bike sheds… her daddy would be very upset if he knew what a slut she was! So Jessica reluctantly agreed to let Zoe spank some sense into her for being so arrogant. She didn't expect Zoe to spank her so hard and make her bottom so red, or stand in the corner with her knickers half way down in a humiliating position either. Then again, one should never underestimate Zoe, she always got her own way in the end!
OK… if you want to see much more of what is going on at the site… including more news on the upcoming finale to kami's Birching (see below)… then CLICK HERE
OK, I'm off out to enjoy the delights of Baltimore's finest cuisine… CRABS! mmm. laters!