Hello everyone, I have been a little quiet recently on all my blogs as Sarah & I had taken a fantastic short vacation touring beautiful Scotland. So 2000 miles later I am rather exhausted… I had to drive everywhere as Sarah couldn't drive a manual car (stick shift as they say) in Europe, along with 80% of Americans who are only used to driving automatic vehicles.
Anyway, I won't post any pics here and bore you with them, it's a spanking blog. I posted a couple images on my Twitter feed. Instead, I will just keep you up to date with a site away from our little network and one we always enjoy following ourselves… that is Northern Spanking run by Alex Reynolds & Paul Kennedy.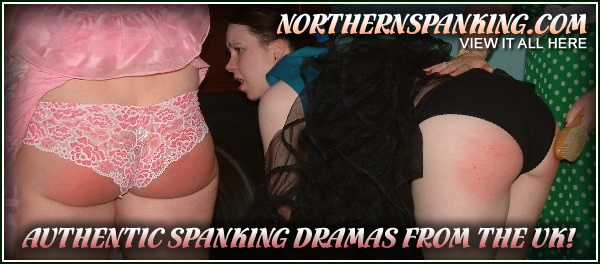 This is what they both had to say about one of their most recent additions to the site starring a girl both Sarah & I have worked with at Shadowlane in the excellent "Top to Bottom" movie.
Introducing Violet October to NorthernSpanking.com
"We are excited to introduce our newest spankee: Violet October. You will recognize this petite beauty from her work with other spanking sites and as a nominee for New Spankee of the Year last year. Violet is not just gorgeous, but also has a wonderful personality, is very fun and creative and takes a good, hard spanking, as you will soon see!
Today, young Violet is in a lot of trouble! She has been sent home from school for being out of uniform. Her little blue school dress and white socks look exactly right, but her red lipstick is definitely not what the dress code requires! Alex scolds her and has her kneel up for a hard spanking, followed by a more severe punishment with a leather paddle. Hopefully a lesson was learned!"