Tis the season to be jolly and all that jazz, so here's a quick seasonal round up of what I've seen so far on the spanking internet this past week and I'll naturally start with my own site AAA Spanking (& why not?) as it features a lovely and funny long play HD spanking film starring Amelia Jane Rutherford and Molly Malone alongside a very naughty "Uncle" Dodgy Dave who receives a rather nice spanking surprise gift from the girls… their unblemished bare bottoms for him to spank before giving him some saucy presents in which the girls help fulfill a schoolgirl spanking fantasy for ol' Dodgy as a very naughty and sexy finale. Lots of laughter and lots of fun making this slightly bonkers film, but I enjoyed making it… I hope those who are members enjoy watching it too! See some exclusive first show images (these are raw unedited images – reduced in size) and some screen video pictures which show the action from the film,… there's a free movie preview link at the end of the text explanation blow 🙂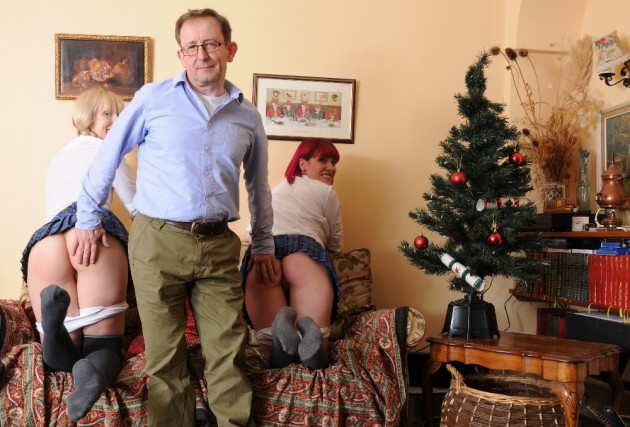 Dodgy Xmas Presents: Amelia & Molly have had an eventful year living with their friendly but sometimes strict landlord, David, who the girls love to call "Uncle" as he is there for them in their times of need and also to sometimes guide the girls when they have misbehaved, some would say they all lead a dysfunctional lifestyle, others would be jealous of their cosy relationship with kindness and spankings never far from their minds. The girls decide to give Uncle David a special treat… quite what it is you will see as the girls allow him to spank them both over his knee on Christmas morning, it's a great start to the day, but much more naughtiness is to come when they hand him their tempting presents! Check out this special long play Christmas video for you all to unwrap & enjoy… Happy Holidays!
Click here to see the FREE Movie Clip of Amelia & Molly's Xmas video

****************************************************
OK… here's a lovely twisted Xmas film from Spanking Sorority Girls and it stars Veronica Ricci, some anal beads *ahem* (thanks Clare!) and a laughing friend and her mom… you'll get what happens with the images and storyline below (I loved this!)
Veronica and Koko are decorating for Christmas when Veronica's mom overhears an anal bead story. Mom gives Veronica and a sound hand and hair brush spanking. Koko laughs the entire time. So when Veronica's long spanking is finally finished and she has been sent to her room with a sore bottom, it is Koko's turn for a trip over this stern lady's knee.
Click here to see this Xmas film and all the other great episodes for members…
*****************************************
One of the best films at My Spanking Room Mate happens to be this Christmas Spanking movie and it also starred Sierra Salem in what was (sadly) her last ever spanking appearance… so make the most of her in the santa outfit… it also has Clare Fonda and Julie Simone as the dommes and co stars my ever fave member of this site, Kay Richards! Check it out below!
At their Christmas party, Clare and Virginia (played by Julie Simone) are playing games with Kay and Sierra. Spanking games of course. Cards lead to plenty of spankings in different positions and with hands and implements. This is the last ever new spanking scene from Sierra Salem.
Click here to see this full film!
Don't forget you can view both sites above via the CLARE FONDA PASS
*****************************************************
& finally a FREE Xmas movie courtesy of English Spankers and Spanking Sarah – both excellent sites, and a generous offer this Yule time to non members to check out a film they obviously enjoyed making with the help of plenty of vino!!! Mr Stern makes a suitably nasty Santa and I loved seeing Suzy Smart AND Sarah Bright getting some bare bottom punishments together. MERRY XMAS… if you do have any pennies left over after this time of year, please do try to support the spanking sites you like by becoming members to view and download the films I have shown here… being a member is so much better than grabbing a few images or clips or the odd stolen link you might come across (that's really sad by the way, but hey ho… what do I know?) Ho! Ho! Ho! Merry spanking Xmas everyone!
Check out English Spankers or Spanking Sarah for more info on how to download this FULL film FREE
***************************************************
ADVERTISEMENT
FINAL WEEK AT AAA SPANKING – Loyalty Offer at $8.50/month! Click below for details